Revised Confrontation Rating, Champion Casket and a cheaper Crown of Comprehension

Starting today, rules for calculating the Confrontation Rating have undergone several changes. Confrontation Ratings score is now calculated for the following combat types:
• Arena of Honor
• Seven Bridges of Shadan
• King of the Hill
• Tournament of Honor
• Sea Battles
• Attacks with the use of Bonescrusher Spheres
• Battles for Mines and Sawmills
• Duels of Truth
• Attacks with the use of Clan Standards (during Clan Wars)
• Battles for Aspect Crystal Extraction Sites (during Clan Wars)
Members of Clans should pay special attention to the last two articles, since participation in Clan Wars strongly affect the Confrontation Rating. As you surely recall, the Confrontation Rating is a total of all the Clan members' Confrontation Ratings for the week. Winning a Clan War substantially increases the total Rating.
Clans that achieved prize places in the Confrontation Rating will receive a new kind of a Trophy Casket in addition to the existing ones, the Champion Trophy Casket. Inside players will find "orange" quality Prize Elixirs of Endurance and Life, Glyphs of Destruction and Life, Orbs of Strength, Vampirism and Courage, all of which will be considered Clan Items and won't require Valor to use them, but will have a limited period of usage.
The Crown of Comprehension spell that increases the main Characteristics as well as received Experience and Valor for all the Clan members now costs twice less, only

50. It can be purchased in the Clan Hall from the Altar of Kyron if your Empire's Pennant is present.
The Announcement section now offers new insight into the future of Adan. You can use this link to get acquainted with the features that will be introduced to the game soon.

UPDATE
The auto-consumption option can now be turned on straight from the backpack.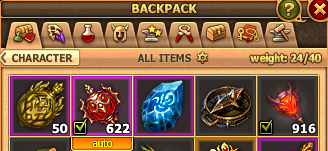 To do so, open the backpack screen, hover your mouse over an item that can be auto-consumed and click the "Auto" button. The auto-consumed item will be marked with a tick in the lower left corner of its image.