Warriors of level 13 and higher, new adventures await you!
Having learned that Aldir is celebrating his ninth birthday soon, Hephaeor decided to present a kite to the boy. Dragon blacksmith's buddy Krom Tander agreed to take the order and, of course, forgot about his promise the next moment after he made it.
Still, Hephaeor has no worries about it. How hard can making a kite be? What could possibly go wrong? Or will Krom Tander once again excel himself at carelessness?
Learn the answers to these questions in the adventures that start with Hephaeor's "A Birthday Gift" Quest, available at level 13.
But Hephaeor is not the only person who needs help with a gift.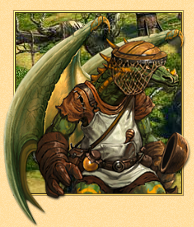 Faltanar, the Dragon beekeeper, wants to make his friends' day by congratulating them on the Early Harvest Fest with a delicious honey cake, baked to his own recipe. A simple task, you say? In Adan, nothing is as simple as it seems.
Take Faltanar's "Secretive Reaper" Quest, available at level 14, to find out, how difficult making a cake could be.