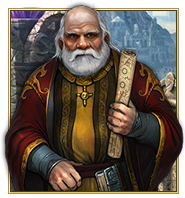 Warriors of level 53 and higher, new adventures await you!
The latest inventions of the Dedaires' brightest minds, the autonomous Machinoids, are about to change the life of Tartu. Sadly, not in a good way. One by one, Manipulators, Drillers, Loaders, and Steamdroids go haywire, disregarding their duties to extract minerals or help Dedaire engineers and attacking everyone in sight instead.
It's been hundreds of years since the people of the Stone City last had to protect their homes from an enemy. Their combats skills ahve faded since then. And how do you fight an enemy when you don't even know what and when causes it to attack you? The Dedaires are praying for an Imperial warrior to spearhead a counterattack on the malfunctioning Machinoids and to reveal the reason and the person behind this strange revolt!
New adventures start with the Quest of Shtold Ventos "Meeting with Shtold", available at level 53.