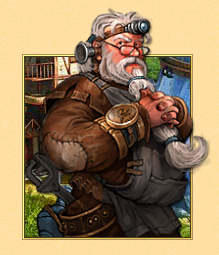 Warriors of level 37 and higher, new adventures await you!
The name of the scientist and inventor Krom Tander is well-known to citizens of Sadar and Vaalor. And though the hard-woking Dedaire enjoys a certain level of deserved praise, many inhabitants of Tartu still treat him with scepticism. And Krom's latest disaster only confirms their worries. Fragments of his latest blow-up invention present a real threat to public and should be isolated and returned to the Dedaire as quickly as possible.
The warrior who takes pity on the disorderly yet well-meaning Krom will have to deal with the accident's consequences and retrieve all the scattered parts so that Tander could fix his mistake. Who knows, maybe his machine will work after all?
New adventures begin with the Quest of Krom Tander "Trial's Consequences", available at level 37.
Also, the following changes have been made to the game:
• Immunity to Strikes has been replaced by the Defense from Strikes that works differently. While Immunity to Strikes protected your Character from all Strikes for 2 rounds, the new effect will for the same period of time reduce damage taken from Strikes. While Defense from Strikes is active, each consecutive Strike deals 33% less damage than the previous one.