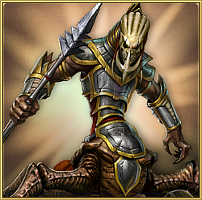 Everyone knows that the more a warrior trains and fights in battles, the better they become at their trade. But who would have thought that the same applies to monsters? As it turns out, they too have the capacity to learn and acquire new combat skills that make them deadlier adversaries!
Warriors of Tartu of level 15+ have been discovered to possess the following abilities:
Argar
Has a chance of falling into rage after being attacked, which raises the damage dealt by its blows by 40%.
Valterna
Can shatter the enemy's morale with a terrible cry, reducing the target's Will, Intuition and Stamina by 40%.