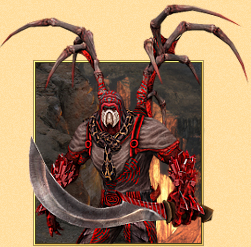 The enemy has infiltrated Tartu!
While all of Adan was expecting a massive assault of the dark armies, Defilers appeared from the Gates of Abyss one by one, quickly negotiating the hills of the Knossos Canyon to disappear in the wandering mountain paths, and reapper later somewhere else.
Strong and merciless, these monsters are not only dangerous in combat, but they also carry the Dragon Blood Crystals that bear the Seal of Blight I, a dark Spell that strengthens all monsters on the Defiler's current location.
Form squads and convoys with other warriors, seek out the Defilers and slay them to acquire trophy Dragon Blood Crystals, then activate them so that Omnimach can use the unleashed energy to close the Gates of Abyss.

If warriors of Adan activate the required number of Dragon Blood Crystals in time, all players will be bestowed with the Bliss of Courage that increases received Experience by 5%, Valor and Heroism by 10%.