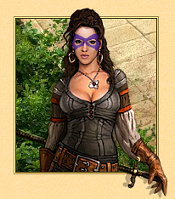 Warriors of level 36 and higher, prepare to go on a new exciting and dangerous journey!
The vain wizard Mahikar Zildian craved the rank of Magistrate in the Sadar School of Elements but couldn't get it no matter how hard he tried. Arriving at the idea that everyone around him was putting spokes in his wheel, the mad wizard decided to do justice on the world that rejected him. He settled in an abandoned fortress and surrounded himself with outlaws and castaways and started mustering an army which would conquer Tartu and throw the world at Mahikar's feet. Lucky for all of Adan, his dreams never came true. Mahikar's army was crushed and the wizard himself killed by the valiant forces of the Scarlet Empire.
It is not a coincidence that this ancient story came to attention of both Vaalor and Sadar agents at the same time. Ghosts of three of Mahikar's minions, imbued with supernatural powers, have returned to Tartu, bent on getting even for the past defeat. And this means that it's time for our Knights to saddle up the mounts, sharpen the trusted blades, clean the armor, and head to face the ressurected villains. But simply dgetting rid of them won't be enough. You will also have to learn who raised Mahikar's minions – and with what purpose.
New adventures start with Ardiana Korf's "Back from the Dead" quest, available upon reaching level 36.