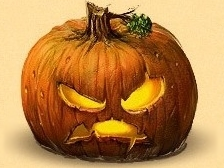 Once a year, a chaotic and dangerous time comes to Adan. On the Night of the Great Dragons, guardians of our world submerge into a deep sleep and undead creatures invade the realm of the living.
While common folk follow the tradition by dressing in scary costumes, dancing, and laughing to show they're not afraid of the evil spirits, warriors work hard lighting the lanterns, burning effigies, intimidating their opponents with horrifying ghosts and, of course, slaying undead monsters to acquire the main ritual lamp, Archylantern of Awakening, which is required to awaken the Great Dragons from their slumber.
Complete Quests of the charming Ani-Dahlia to receive Gift Pumpkins that contain characteristic-increasing holiday candy as well as grant you a chance to obtain a special weapon – the Broom. Players who obtain the Archylantern, will additionally receive a unique Pumpkin Helm.
To celebrate the coming Night of the Great Dragons, we offer you our traditional spooky Smileys for the game Chat and Gifts that can be found in the Shop.
Night of the Great Dragons begins October 31 at 18:00 Server Time. You can learn more about it here!