New Game Features
Starting today, residents of Adan have a new opportunity. From now on, warrior's, dragon's and mount's equipment can be transformed into magical dust, which can be used as a component in the creation of Spheres of Protection and Spheres of Immunity.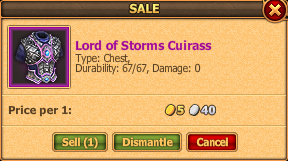 To create these items, you must purchase their recipes in the reputation window once you have achieved a sufficient Hero of the Empire repuation. These spheres can be transferred and sold. Spheres may be activated in battle, by hovering over them and pressing the "Use" button that appears.
Under the effects of a Sphere of Immunity you are protected from the harmful spells, which an opponent may try to place upon you by making use of a Bonecrusher Sphere, however your rival will still receive Bonecrusher reputation. Also, while under the effects of this sphere, you yourself cannot use Bonecrusher Spheres.
A Sphere of Protection protects you from enemy attacks using a Bonecrusher Sphere or a Clan Standard, but you will also be unable to attack opponents with these items. However, if your enemy has activated a mark of death upon you, then he will be able to successfully draw you into battle. After the effects of a Sphere of Protection wear off, the effect of Spiritual Depletion will be placed on you for 1 hour under which you will be unable to use either a Sphere of Protection, or a Sphere of Immunity.
Only one sphere can be used at a time – either immunity, or protection.
In addition, starting today medals received for Hero of the Empire reputation influence the probability of saving against harmful spells in battle. A medal of "Recognition" reduces the chance of a spell by 5%, medal of "Friendliness" - by 10%, medal of "Respect" - by 15%, medal of "Reverence" - by 20%, medal of "Exaltation" - by 25% and a medal of "Worship" - by 30%.