Sea Battles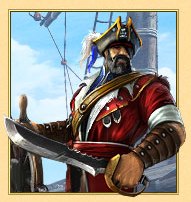 Citizens of Adan rejoice for the time has come to leave the mainland and set out to sea! Any warrior who has reached level 22 will be able to board ships with other brave souls and sail the eastern seas in search of legendary pirate treasure!
For those who decide to join as a member of a 9 person crew, ahead lie four stages of a harrowing journey:
1. Land battles at the Pirate Stronghold to claim pirate gold
2. A cannon shootout to defend your loot from the ship of the opposing empire
3. Preparation for boarding
4. Boarding the enemy vessel
As rewards participants will receive Valor , Heroism, which opens your way to titles and regalia, and pirate gold, which can be exchanged in the near future for unique items. The losing team receives 50% of the gold looted from the pirates, and the winning team takes 150% of the gold collected by its fighters.
To take part in these amazing marine melees, press the "Battlegrounds" button and choose "Sea Battle", then click "Queue Up." Once you're in the queue, a timer will show how much time remains before the start of the battle. There are no level groups for sea battles. Everyone is placed into the same queue. This battleground will start once every two hours.
Please note that when you enter a sea battle, you will lose your Wraith status.