Echoes of Ancient Battles!
Valiant defenders of Tartu, proud warriors and fierce shieldmaidens, the world of Dragons is celebrating its sixth birthday. For six years, we have studied the history of this world, revealed its mysteries, fought monsters and demons that threatened peace on Tartu, and delved into the secret craft of magic. We have found new friends and faithful battle brothers; some of you might have even found eternal love. We have competed in battle arenas as well as in literary and poetry contests, and the Dragons were happy to see our work. This year has brought us many astonishing changes, yet the defenders of Tartu have emerged from all the ordeals triumphantly. We admire your loyalty, valor, and your amazing talents. We hope that you stay with us in the world of dragons, where there are still many new discoveries, mysteries, and adventures ahead!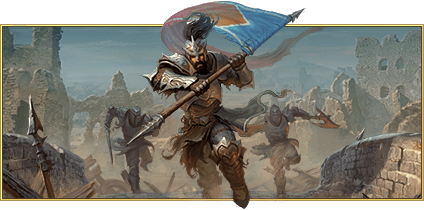 Celebrations will start on April 12 at 12:00 Server Time and will continue for a week until April 18 12:00 Server Time. During this period, equipment won't break after losing a battle. Also, all defenders of Tartu of level 11+ who log into the game during the festive week will receive a Casket of Plenty.
Our festive Event called the Echoes of Ancient Battles wll start on April 12 and will last for 3 days - until April 15.
Ghosts of Shadan warriors have appeared in the Ruins of the Ancient Capital. Prove to the heroes of the past that brave heroes aren't extinct in Adan! Warriors who deal the most damage to the enemy in these battles have a chance of receiving special Spheres of Ghost Summoning. Use these Sphere in battle to summon a powerful ally whose level is tied to the level of your character.
There will be some changes to the rules of the Ruins of the Ancient Capital during the Event:
• Minimum required number of warriors will be reduced; during the Event, 5 players on each side will be enough to start the battle
• Battle length will be reduced to 30 minutes.
• Once a day you will receive a Recurring Quest that will ask you to gather 1000 Spectral Essences. Essences can be acquired by fighting in the Ruins of the Ancient Capital. Complete the Quest to receive a Casket of Retribution.
Also, Great Dragon Collections will be available for completion during the Echoes of Ancient Battles Event. A completed Collection will boost your battle stats for three days. Please note that each of the three Collections can only be completed once!
Eldior's Statue Collection can be completed by fighting monsters and will increase your Valor earned by 25%.
Velet's Statue Collection can be completed by fighting in the Arena of Honor, Ruins of the Ancient Capital, and Tournament of Honor and will increase your Heroism earned by 25%.
Aeona's Statue Collection can only be completed by warriors who take part in Sea Battles. Complete it to rceive a 10% health boost.
This is just the start! The coming year will be a year of many surprises. The world of Dragons is waiting for you!