The Dragon Eternity Birthday Wish Contest!
Valiant warriors, Dragon Eternity's birthday is not far off, and all of Adan is preparing to celebrate this glorious occasion. We think it's time for you to get involved in the festive preparations too! Send your best wishes to your battle brothers and sisters, the inhabitants of Tartu, and to the wise Dragons!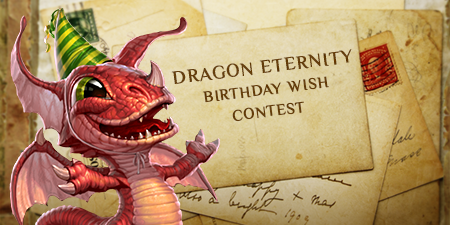 You can write the birthday greetings in the comments to this post, but be sure to do so before April 9. On April 12, we'll reveal the names of the three winners, the authors of the most touching and unforgettable greetings!
The winners will get the following rewards:

1st place — 30 reals
2nd place — 20 reals
3rd place — 10 reals
Hurry up to share your happiness and your best moments with the friends and comrades. May the ancient Dragons bless you!