Many News in the World of Adan
•

Lesser Star of Discovery. Jewelers who have already reached the Apprentice level of Mastery can now create a Lesser Star of Discovery, which increases the amount of experience received in combat by 2x. To craft this item, purchase the necessary Scheme in the Shop and study it.
• Warrants for Gladiator collection exchanges. Our Shop has received Warrants for Gladiator collections the purchase of which you need a certain level of Gladiator reputation. With a Warrant, you can get an item from the collection of the same name in exchange for similar items from a collection of lower level.
• Faster Creation of Fianites. Warriors who have already reached level 16 and mastered the Art of Necromancy can now create Fianites in just half an hour's time. Fianites are crystals with an undead ally imprisoned within that can be used during the battle!
• A new Crypt. In addition to the Eastern Graveyard, we have added a new site for those of you who have reached 37,000 reputation with the Vigilant Guard. There you will be able to create Fianites of Dawn Rat-Kin Skeletar, Dawn Valterna Skeletar and Dawn Argar Skeletar.
• Increased chance of cursing opponents! Now, everyone holding a medal for Bonecrusher reputation has an increased chance of striking your opponent with a curse while using Bonecrusher Spheres. The probability depends on the quality of the Medal.
• Dragon experience and valor. You will now receive 30% of experience and valor for the damage dealt by your Dragon in combat. Of course, valor will still only be earned while fighting other players.
• Settings to match your computer's performance! The settings dialog has been updated and can be accessed by clicking on the gear icon in the upper-right corner of the screen. There you can select the display mode of the game, depending on the power of your computer. You can either choose one of three preset modes: maximum, minimum, or balanced, or you can manually choose the settings by using to the individual mode. In the future, game settings will continue to be supplemented and expanded.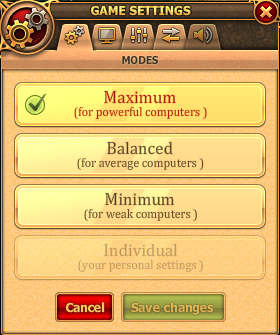 • Transferable relics. You now can receive sleeping relics in the Skrag Caves that can be safely bought or sold without fear of angering the spirits lurking within them.
• New armor for dragons and humans. Your battle companions can now equip new armor of "blue" quality, which recently arrived in the Shop.
Also, armor of superior "purple" quality for humans is now on sale: Sets of Lord of Storms, Ruler of Fates and Twilight Ruler.
Owners of the previous "blue" sets have probably noticed that the appearance of their armor has been changed.
•

The Roomy Military Belt is available for valor. "Soldier of the First Blood" rank holders can now purchase a product new to the store, the Roomy Military Belt, which will allow you to take into battle even more potions and magical artifacts.
• Great consumable items ! In the Shop we now have consumable items of "orange" quality: great artifacts, elixirs, balms. Aside from that, Great Orbs have been made even stronger and now are sold in kits. To purchase the new items, you need not only the proper experience level, but also the appropriate level of Valor.
• Repairs are now more affordable! Repairs of all items have been cut in half, so now fixing your equipment is much less of a hassle.
• Food for mighty warriors. Now in the Shop, you can find food for mighty warriors of levels from 39 to 49.
• Orbs of Fearlessness can disorient! Now Orbs of Fearlessness do not only increase the damage done by melee spells, but you now the chance of disorienting your enemy.