Welcome to Adan, warrior! To make your journey into this world more comfortable and exciting, please get acquainted with this Beginner's Guide.
Registering account in our game, you will be asked to pick an Empire your character will serve. If you choose the Empire of Sadar, you will begin your journey at the Sadar War Academy, where you will be greeted by the Crown-Legate Crimm. If you choose theEmpire of Vaalor, you will find yourself at the Vaalor War Academy, welcomed by the Storm-Brigadier Rand. Crimm and Rand will become your mentors, guiding you through the introductory part of the game.
Game Controls. Menu
The

Main Menu is located left and right in the lower part of the screen:

The Upper Menu contains shortcuts to our game portal's main sections:
Completing Collections earns you different Reputations as well as unlocks unique abilities.

Bank is where you purchase in-game currency (Gold or Reals).

Reputations menu contains information about your Reputation progress.
Forum

will take you to the official Dragon Eternity Forum.

Quest Log lists all received Quests and provides their descriptions and information about objectives and rewards.
News

section includes game news and announcements.

The

Map

button opens the world map.

Library

contains lots of useful information about Dragon Eternity.

Shop is a place where you can purchase items from various in-game stores.
Help

button will open the F.A.Q. section of our portal. We hope that you will find the answers you are looking for there.

Auction is a place to sell and purchase items from other players.
Profile

shows information about you character. You can change your password, upload new photos and do other things from the Profile menu.

Battlegrounds are multiplayer PvP battles.

Use

Settings

to adjust your graphic, interface, chat, network and other settings.

Instances are special underground locations that can be visited on your own or as part of a group. Rare and valuable trophies can be obtained there.
Professions

represent skills that can be acquired regardless of your character's faction or class.
Getting Started
Finish your F

irst Quest, the Trial by Sword. To do so, examine the location where your character appears. Next to your mentor you will see the traitorous Deydri Marauder. You must defeat him in battle to complete the objective. Click on the Deydri to begin combat.

To attack an enemy in combat, click Attack or Defense. The Mana Stance will be unlocked later

.

Complete your first Quest

by killing the Marauder. Click on the

portrait of the NPC who issued the task (in this case, your War Academy mentor) to claim your reward.

You can learn more about in-game Quests

here

.

Your mentor will give you a new Quest. You will be asked to

purchase Recruit Leggings in the Shop and then

equip the Leggings along with Recruit Boots. The

Shop

button is located in the right part of the Main Menu, near the Backpack icon.

.

To

purchase the required items, add them to cart by clicking on respective item images, then click Buy. Purchased items will be added to your Backpack instantly

.





Congratulations! You gained level 2!

You can now go to the

Outskirts

of your War Academy. You have also received

new Quests! In order to move to a different location, select that location from the list on the right:

Follow the hints and tips of our little Dragon adviser to learn a lot of useful information about Dragon Eternity!
Character
You can equip items on your character by using the equip button. To view current equipment, open the Character Screen by clicking your character's portrait in the upper left corner of the game window. You can also view information about your character by using the

icon next to their name.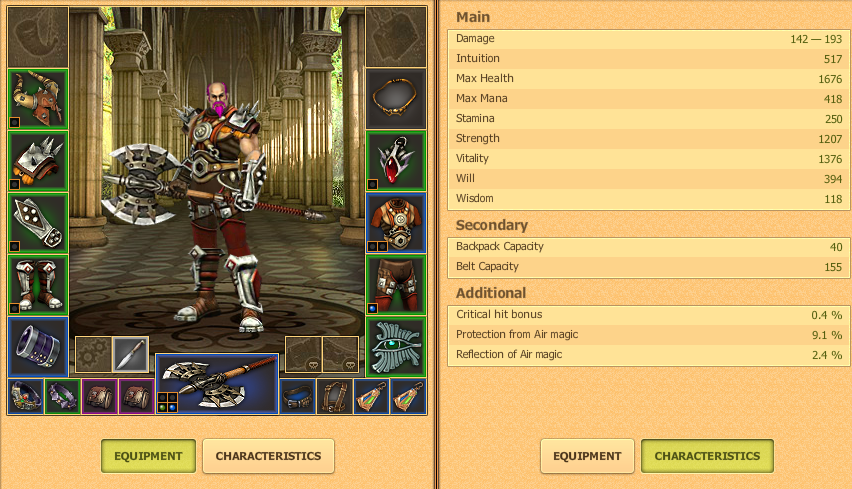 Your character gains Experience as they finish quests, slays monsters and complete other game tasks.
Experience level is reflected by a green bar next to your character level. Two numbers you can see on the bar represent the amount of experience needed to level up your character (the number on the right) and the experience already gained (the number on the left).
Valor level is indicated by a violet bar next to your Rank icon. Two numbers you can see on the bar represent the amount of Valor needed to achieve the next Rank (the number on the right) and the Valor already acquired (the number on the left).
More about Experience and Valor.
Below the Valor bar are your character's name and Health Bar. Health is regenerated over time at a fixed rate. Use Food to replenish it instantly and get back into action quicker!

Communication
Players communicate with each other by the means of game chat. Messages can be sent to all players or a particular person (multiple persons). To select a recipient, click on a character's name in the chat window or in the location's player list. Clicking on a character's name once will highlight it green. If you click twice, it will be highlighted red:



Message will be sent into the main chat and will be visible to all players.


Message will be sent privately, visible only to its intended recipient(s).
Following tags can be used in the game chat (each tag must be followed by a space):
• @nick sends message to a player in the main chat window;
• @(nick nick) sends message to a player whose character name consists of two or more words in the main chat window;
• #nick sends a private message;
• #(nick nick) sends a private message to a player whose character name consists of two or more words.
As you progress through the game, you will gain access to various Chat Channels: Main, Trade, Clan (if you join one). In addition to default channels, you can also to create and customize your own Chat Tabs. To add a new tab, click the plus icon located above the chat window, next to the right-most existing tab. Use the screen that pops up to enter the tab name and set the message types you wish to receive.
Tick the Location Channel box to receive messages from players in your current location only. Choosing the Trade Channel will allow you to receive trade messages from players all across the game world. Please note that private and system messages can't be disabled and will appear in all tabs.
To change the settings for the new tab or delete it, hover your mouse over the tab name and click the gear icon, or simply double click the tab name. The settings screen will appear, allowing you to make changes to the tab as well as delete a tab you are no longer using.
Hunting and Combat
Monsters move around the game locations freely. To attack one of them, double-click it with the left mouse button. A combat screen will appear, showing your character on the left and the enemy on the right. Three Stance buttons are located in the lower part of the combat interface: select Attack, Defense or Magic for a particular effect. Please note that monsters are also capable of changing Stances.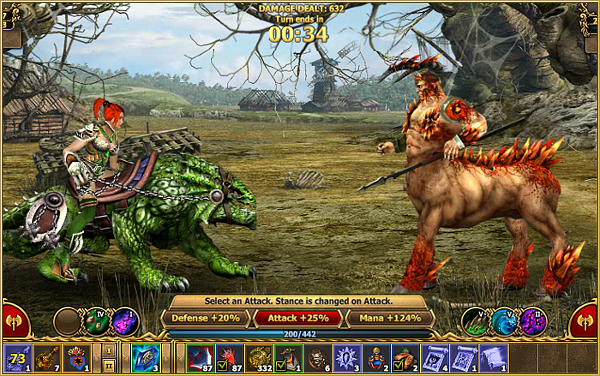 Following messages appear during combat:
- 39 Numbers with a minus sign indicate damage, loss of Health Points.
+ 15 Numbers with a plus sign indicate recovery of Health Points.
- 97 Red numbers indicate a critical strike.
- 23 Yellow numbers indicate that part of the damage was absorbed.
Block indicates that the attack was blocked by player/enemy.
Dodge indicates that the attack was dodged by player/enemy.
There are two possible combat outcomes:
Victory means your combat skills and tactics were better and you won.
Defeat means you lost the combat. In this case, durability of the items equipped on your character will decrease.
Consumable Items
As your character progresses, different Consumable Items become available to them: Elixirs, Orbs, Glyphs, etc. Elixirs and Glyphs must be placed into your character's Belt before being used. Maximum Belt Capacity is 85. Hover over each item to see how many space it takes (a screen will pop up showing essential information about the item). You can add items to the belt by hovering your mouse over them and clicking to belt button.
Orbs can be used directly from the Backpack or added to the Quick-Access Panel that is located next to the Belt slots. You can add an item to the Quick-Access Panel by hovering your mouse over it and clicking the panel button.
Hotkeys
In addition to the convenient mouse-controlled interface, Dragon Eternity allows you to use Hotkeys to instantly access different game menus. Hotkeys can also be used in combat to quicker react to current situation and fight your enemies with more efficiency.
Q – Quest Log
Opens the Quest Log which contains information on all active Quests: NPCs who issued them, descriptions, objectives, and rewards.
R – Reputations
This button opens the Reputation Menu where you can view information about your progress with different Reputations, unlocked abilities and items, and rewards which you can unlock in the future.
U – Character Menu
Contains detailed information on your Character, their Equipment and Characteristics.
P – Professions
This screen contains information about your Mastery with each of the in-game Professions.
K – Clans
This button opens the Clan list where you can view their names, emblems as well as access more detailed information about each Clan.
F – Battlegrounds and Instances
Use this button to bring up the list of all Battlegrounds and Instances that are available at your current level.
A – Auction
Provides quick access to the Auction where you can search for interesting lots, view your bids, purchases and sold items.
S – Shop
Clicking this button will view the list of all items in all in-game Shops, including those that require a certain Reputation level to make purchases.
G – Bank
Opens the Bank where you can purchase in-game currency.
You can also use hotkeys to perform attacks during combat:
1 — attack in Defense Stance
2 — attack in Attack stance
3 — attack in Mana Stance
To quickly access Elixirs and Glyphs from your Belt in battle, use the combination Ctrl + number. For instance,
Ctrl + 1 use the first Belt item (counting from the left);
Ctrl + 2 use the second Belt item; and so on.