Professions: Improvements and Updates

With the introduction of Professions, many residents of Tartu happily plunged into crafting and other useful activities, having started farming, fishing, hunting and mining valuable minerals, as well as preparing food and other consumable items. And the mark "beta" by Professions tab is not just for show. It indicates that this feature will continue to undergo improvements and important changes. Many changes have been made since the initial launch of Professions, and it's time to make them more widely known.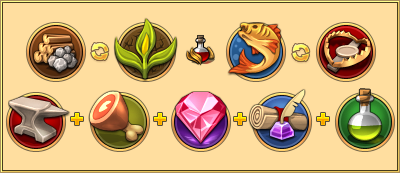 • The time it takes to develop your skills in a profession has been reduced. Now, new levels of Mastery can be reached significantly faster.
• You can get additional storage for resources by renting or buying a chest in the Tavern at the Winery Crossroads. You can open your chest by simply clicking on the Tavern Building.
• Now, plots of soil that are not unavailable to your level will not be marked with arrows. Should you click on such an area, you will see the usual notification that you must increase your level of mastery to grow something there.
• The effects of fertilizers and watering can be observed in a dialog that appears when you hover over particular patch.
• Seedlings can now be seen immediately after planting seeds.
• Catches have been increased. From now on, when you place a single net, you can catch up to 20 fishes. In addition, now it is not possible to catch fish beyond your current mastery level. • In order to maintain balance, recipes have been modified in the case of some types of fish.
• The prospector menu is no longer locked at the start of production • Extracted resources are now sorted by quality, starting with the white level.
• Now you can sell the resources you obtain directly from the hunting results window.
Of course, these are not the only changes that have been implemented. In the meantime, we are continuing to improve Professions so everyone in the world of Dragon Eternity can have a reprieve from battles to enjoy the peaceful fulfillment of crafting the strong armor, magic orbs, life-giving elixirs and other items much needed by any adventurer.

Unrelated to Professions, this final tidbit will certainly will appeal to many active chat users. Now you can disable notifications of chat rules violations. Mouse over a name in the chat tab, click on the cogwheel icon and uncheck "player punishments" in the dialog box that appears.