Server Maintenance on Tuesday

Attention please! Important announcement!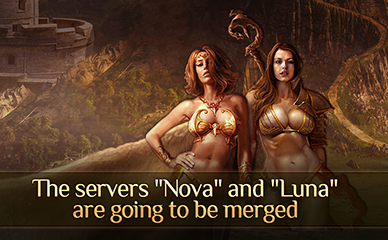 The servers "Nova" and "Luna" are going to be merged, all players from the server "Luna" will be transferred to the server "Nova".



Server consolidation works are scheduled for Tuesday, September 2nd 2014, 09:00 Server Time. Both "Luna" and "Nova" servers will be unavailable for the duration of 8 hours, beginning at 09:00 Server Time.



All existing player characters created on the "Luna" server shall be transferred to "Nova". If the nickname you selected for your character on "Luna" is already taken on "Nova", a period symbol shall be added to the nickname. You may change the name within 2 weeks. Please contact our community support if you wish to do so.



Clans will not be relocated. "Luna" server clan leaders may recreate their clans on "Nova" and are eligible to ask our support for a reimbursement of expenses resulting from founding a clan. Should your clan be using a unique logo, please contact support and we will assign it to your new clan.

We thank you for your support of our project!
Your "Dragon Eternity" team