Every warrior knows that many difficulties await those who wander the world in search of adventure. Hardships of an adventurer's life are best overcome with a group of loyal and hearty companions. For this reason, you have the option to unite your friends under a single banner, by creating your own, unique and inimitable brotherhood, your very own Clan.
Clan Registration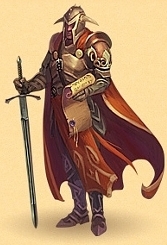 Following documents are required to create a Clan:
• Clan Manifesto x1
• Certificate of Support x10
Manifesto can be purchased directly from the Clan creation menu. Simply select it and click "Buy".
Signed Certificates of Support can be purchased from other players through direct trade or at the Auction. . Signed Certificates may be created by buying and using a Certificate of Support. Warriors of Sadar can purchase the Certificte from Gal Karion on the Scarlet Square, while warriors of Vaalor will have to visit Lar-Dian on the Square of Storms.
When you obtain the required documents, click the Clans button in the lower left part of the screen, then enter the Clan name and select a Clan logo in the window that pops up and click "Register Clan". Clan interface will become available to you.
ATTENTION!
If your Clan name doesn't comply with the Game Rules, your Clan will be disbanded with no compensation of registration costs!
Rules for Choosing a Clan Name

Clan Name

1. Clan title should consist only of Latin alphabet characters and can not contain any special characters, such as spaces, "-" or "_".
2. Clan titles should not contain any violation of general game rules, such as racist/fascist statements, advertising of drug/alcohol consumption, political slogans, etc.
3. Clan title should be unique (within the game), it should not be a full or partial (recognizable) copy of any other clan titles.
4. It is forbidden to use titles of countries, trade marks, geographical entities.
5. Clan title should be compliant with general rules and laws of the game. .
In any other cases not stated above, Administration reserves the right to act at its own discretion.