Perfect place for Wedding celebrations
There are many different ways to celebrate weddings. On this day, some lovers want nothing more than to be all on their own, while the others are eager for all their friends and family to join them for a joyous party. In the world of Dragons, those who wish to celebrate the union of their hearts according to the ancient laws and traditions of the land can now travel to the wondrous Wedding Garden at the mouth of the Aeiyaoka River, which means secret river.
For a long time, this place was lost to the depths of Valdian Forest, but at present, the road of Five Bridges leads there from Moon City. They say the path is trodden by happy lovers and that just by walking on the path means the wedding celebrations have begun.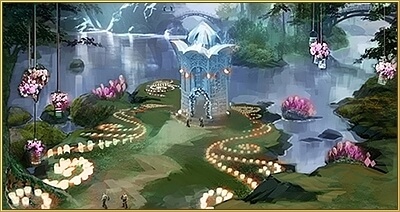 • Aeiya, the last of the Valdian Forest's nayars, the lady of the river and the Wedding Garden, is always there to witness the sacraments of marriage. She believes that the union of two hearts will help the world endure in the battle against ultimate evil, just as the union of a Man and a Dragon helped save the world from descending into darkness once long ago.
• The Wedding Garden will have a separate chat channel where no one will disturb the newlyweds and their guests.
• In the near future, Aeiya will give the young couples quests which they must complete together.

• Later on, a special wedding store will open in the Garden where unique items will be sold.